I've been posting to Wattpad chapter a week of my nerdy comedy Creampuffs since January, and this week was the final chapter.
It's been an interesting little experiment. Based on WattPad's stats I was a bit discouraged, but it turns out that more people than I thought have been following along! It's really great to know that my story is getting out there. That's what I really want: for people to read my stuff.
And so I thought… now what? Creampuffs is now out on the intertubes, so why not… self-publish it? BEHOLD: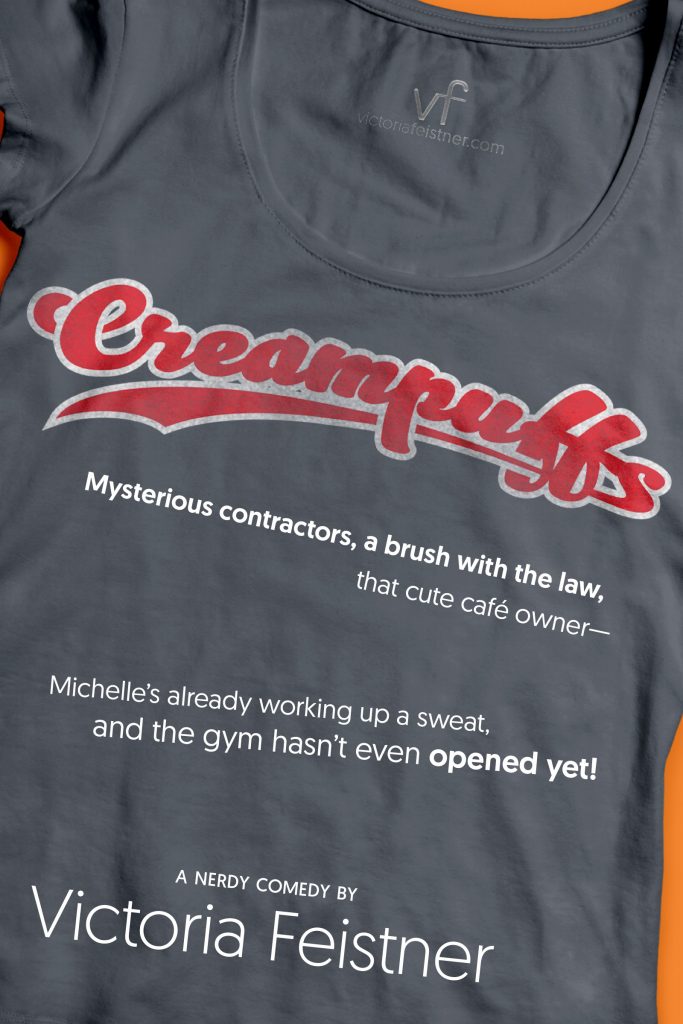 Q. But Victoria, why would people buy a copy–even an attractively priced copy–of a book available to read for free?
Well, some people might want to read Creampuffs on their eReader at the cottage this summer, where there's no WiFi. Or maybe they read it on WattPad and enjoyed it enough to want to read it again whenever they choose. Or they dislike WattPad's ads. Or they just want to show support. I'm not taking the WattPad version down; I'm offering the Smashwords copy along side of it for people who might want it.
Q. But doesn't this mean Creampuffs is no longer eligible for traditional publishing?
Maybe? But let's face it: Creampuffs wasn't likely to get sold to a traditional publisher anyway. So why not put it out where people can read it? And in the future, if my circumstances change, a publisher might get interested in re-releasing it. Stranger things have happened; but yeah, this is probably it for Creampuffs for the foreseeable future.
Q. Why is it $1.99USD? How did you arrive at that price?
Pricing self-published books is hard, but here's my reasoning: if I have downloaded an app, and it has ads that I can pay to remove, and that cost is less than $3CAD, I generally do indeed to pay to have the ads removed. I would pay $3 to have the ads on WattPad removed but that's not how WP works. As for the USD pricing, that's how Smashwords works.
Q. WHY SHOULD I BUY A COPY IF IT'S FOR FREE ON THE INTERNET? NOW YOU'RE JUST BEING GREEDY
WAIT A SECOND, YOU'RE NOT A REAL PERSON ASKING REAL QUESTIONS
YOU'RE JUST THE NEGATIVE VOICE INSIDE MY HEAD, AREN'T YOU
But in the off-chance that you ARE a real person, let me put it this way: if we were friends IRL, and I told you I had published a book, what would your response be?
Q. Probably, 'yay, congrats'?
And how to do people often show support?
Q. I would probably buy you a beer, I guess? If we were hanging out in some sort of normal, adult, North American capacity. To toast your success or whatever.
And what if we don't hang out regularly because a) internet or b) middle-aged adult relationships?
Q. Well, I guess, I would offer to buy you a beer next time we hang out, whenever that is, or like, joke about sending one through the internet… ohhhh.
Glad the walk-through helped. And $3CAD for an ePub sure is cheaper than a beer, isn't it! Even in DoFo's Ontario!
Q. That's the truth! But wait, I don't have an eReader or anything like that but I still want to show my support with a fake beer. Now what do I do?
If you read & enjoyed Creampuffs on WattPad, you could consider leaving a comment or a review–that's free and insanely helpful. Ditto tweeting about it. Or if you are really committed to this virtual-beer idea without wanting an ePub you will never do anything with, you could send me $3CAD through my Ko-Fi. Then I can use it to buy an iced coffee, since I don't drink beer anyway.
Q. Oh, yeah, that's right. You don't. Hey, do you have a Patreon?
Technically, yes. But it's not live and I don't know what to do with it (yet). So for the purposes of this fake Q&A, no, I don't.
Q. You are being entirely too honest.
I don't know whether you've noticed but I am still learning all this self-marketing malarkey. It's hard to sell your own work, especially art. Especially writing. Especially when there's no dead-tree version. But at least you know that I'm being honest about all the other stuff, too.
Q. Well I really liked Creampuffs, so keep up the good work!
Thanks, potential reader/imaginary voice! I really like Creampuffs too. I'm happy with how it turned out and that's it's now out in the world. Maybe one day it'll reach someone who needed to read it. (And if they reach out to leave a comment or a nice tweet, that's honestly going to make my day. Even if they read it for free.) That's why I'm in this game in the first place, after all. That and writing about swashbuckling Regency explorers fighting dinosaurs. <3
Q. Hey, yeah, whatever happened to Flet–
I HAVE TO GO NOW
Q. But–
Be back here for a regular post on Monday! Thanks for stopping by! Glad you enjoyed Creampuffs! See you on the intertubes!
UPDATE:
There's now a paperback version available on Amazon for people who like to read their happy stories on thin slices of wood pulp! I did the cover and laid out the inside, which was a happy ending all of my own. Enjoy!