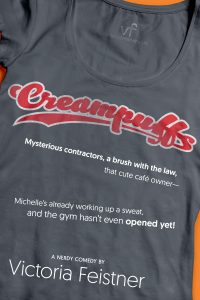 After spending her 20s and 30s coasting from job to job, geeky Michelle has finally found her calling. She's teaming up with her out-going jock brother Bryan to create "Creampuffs", a gym for ultra-beginners and introverts. They'll need to renovate their sleazy uncle's old warehouse and figure out how to teach fitness lessons with no budget for equipment, but Michelle thinks that's all part of the fun. And is it just her, or is the cafe owner next door kinda cute?
But while they learn to manage their dream business, the siblings must also learn to relate to each other as adults without their parents interfering—a task made all the harder when the warehouse is seized by the police. Too soon, the gym and Michelle's savings are gone, and Bryan is no longer speaking to her. Can she come up with a plan to reboot Creampuffs, or will she be forced back into her old, ill-fitting life, this time without her brother to rely on?
"I got to read an early draft when I was taking a break from doing my taxes and it helped my emotional state greatly, buy this happy book."
—Laura DeHaan, author & possible pillbug
---
56,000 words, available as ePub, mobi, etc., via Smashwords, as a .mobi or paperback on Amazon, or free to read on WattPad.